2019

GMC

Savana Cargo Van

2500 Regular Wheelbase Rear-Wheel Drive
Starting MSRP from $31,900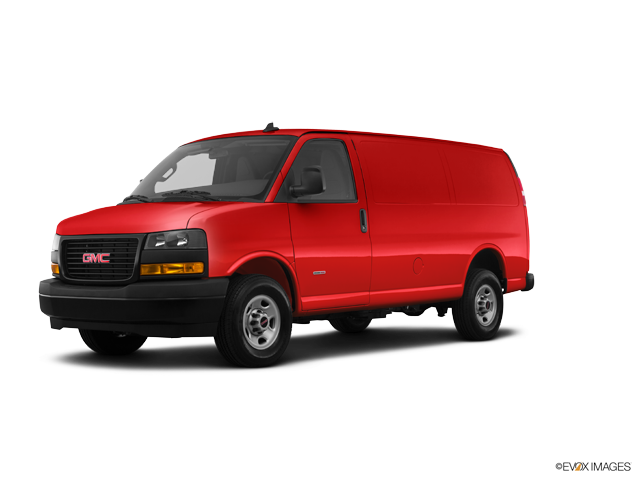 Looking for a rough and ready cargo van for work near San Antonio? Maybe you're in the trades and you need a reliable company van for your staff to use on site. The 2017 GMC Savana Cargo Van might be the perfect work vehicle at just the right price for you.
Kelley Blue Book
gives the 2017 GMC Savana Cargo van an 8.3 out of 10 consumer rating. Their review says, "If you're looking for a reliable work van with a long history of hauling people and cargo, the 2017 GMC Savana van deserves a good look." And that's a fairly good description of the 2017 GMC Savana Cargo Van. This vehicle is rough and ready, with great towing capacity. It offers a sturdy body for any trade where expensive tools and parts need to be brought to the job.
The body of this cargo van is reminiscent of traditional work vans. The basic idea here is, "if it's not broke, don't fix it". The design works great for contractors who need to have access to their tools and tradesmen who may be bringing expensive parts back and forth to different job sites. It offers great towing capacity to handle the load, excellent maneuverability, and a comfortable driving experience. Unlike the pickup models, the covered design keeps expensive items more secure for the long hours you may need to have supplies in your vehicle.
Configurations for the 2017 GMC Savana Cargo Van
There are a few configurations to consider, when looking at a 2017 GMC Savana Cargo Van. You should also be aware that both the 2500 and 3500 are available as passenger vans, with seating from 8-12.
The cargo van options we're discussing here have a driver and passenger seat only, with plenty of cargo space to haul materials or build a usable, on the go, tool center. There are plenty of options to add on to features and all of the work vans are rear wheel drive.
There are four configurations to the 2017 GMC Savana Cargo Van:
• 2500 Regular Wheelbase.
The starting price for this work van is $31,940. The regular wheelbase offers cargo volume of 239.70 feet. There are three engine types available: 4.8L V8, 6.0L V8, and Turbo-Diesel. Max trailering capacity ranges from 7,000 pounds to 10,000 pounds, depending on the engine.
• 2500 Extended Wheelbase.
As the name would suggest, the extended wheelbase offers more cargo space because the body of the van is a bit longer. This configuration features 284.40 feet of cargo capacity. The same three model types are available for the extended wheel base, making the trailering capacity range from 6,700 pounds to 10,000 pounds. The starting price for this work van is $33,800.
• 3500 Regular Wheelbase.
The 3500 configuration offers a higher gross vehicle weight rating and max payload. With the regular wheelbase, you get a cargo volume of 239.70 feet with the same engines available as there are in the 2500. This model starts at $35,260.
• 3500 Extended Wheelbase.
The 3500 extended wheelbase offers the cargo volume of 284.40 feet. This configuration is available in all three engine types but offers a higher max payload and gross vehicle weight rate than the 2500 model. The starting price for the 3500 extended wheelbase is $36,145.
2017 GMC Savana Cargo Van Performance
There's no doubt about it, the 2017 GMC Savana Cargo Van offers fantastic performance for a work vehicle. You get all of the power of great towing, but the maneuverability is more akin to current trucks. This is a vehicle that's easy to navigate and offers a fairly smooth ride, much more comfortable than the older work van models.
There are three engines to choose from. The V8 engines offer a good deal of power for advanced towing capabilities. If you're more interested in fuel economy, the diesel engine fits the bill. For the amount of power, storage, and durability, the 2017 GMC Cargo Van is an excellent choice for the price.
Besides the engine choices and towing ability, you have a few other features that make driving this work van even more enticing. The Eaton Automatic Locking Rear Differential is available to make the ride even smoother and to offer complete control for this rear wheel drive vehicle. All of the Savana models come equipped with StabiliTrak. This feature works through a variety of sensors that monitor steering and braking capabilities in all different terrain to help keep drivers more stable on the road.
Your 2017 GMC Savana Cargo Van Exterior Features
The exterior of the 2017 GMC Savana Cargo Van looks strikingly similar to work vans of yesteryear. It has the same boxy design, though the corners are a bit more rounded as is today's style. You do have the option of adding tinted glass, rather than the standard body without windows. Though, if you're using the van for cargo, rather than passenger seating, you'll likely prefer the no window, plain body version. The front grill and headlights do add a touch to bring this van into the current century, but there's no mistaking that this is a work vehicle that's meant to be durable and perform.
For all that the cargo looks like box vans of the past, it does have a few exterior features that make it more accessible and convenient to drive. There are two different door options - the hinge passenger doors and the sliding side cargo door. This offers you a bit of versatility with how you load and use your cargo space. You also have options to equip this van for wheelchair access.
Other accessories available for your exterior include:
• Roof Rack.
This feature gives you extra storage and towing space for specialty jobs. You'll also be able to store large items, such as ladders, that won't fit within the body of your van.
• Swing Out Ladder Rack.
This feature gives you easier access to the top rack of your vehicle for more convenient reach in securing and removing items.
• Security Screen.
One of the top concerns among tradesmen who most often use work vans is in the security of their tools. First, the tools you keep in your van are often expensive.
• Second, losing them means that your ability to work is compromised. The security screen is an extra feature to keep your items from being seen by would be thieves.
• Side Step.
This extra step makes getting in and out of the van much easier for passengers.
Interior Features for the 2017 GMC Savana Cargo Van
The cock pit of the GMC Savana is surprisingly comfortable for both driver and passenger. The interior was designed for usability. GMC considered the comfort of the passengers and the organizational needs of the materials they might be carrying. To that end, they paid attention in their design features for both the cargo area and the driving area.
In the back of the van:
• Floor Covering.
The 2017 GMC Savana comes with black, rubberized vinyl floor covering that runs the entire length of the interior. This provides great traction for your items and is easy to clean if there are messy materials that might spill.
• Cargo Tie Downs.
These sturdy D-rings are attached to the floor of the vehicle, making it easy to fix possessions and organizational units in order to better load your truck and secure items from moving.
The driving and passenger experience:
• High Backed Bucket Seats.
The driver and passenger seats are comfortable and well made, available in cloth and vinyl.
• Convenient Access to Controls.
The driver seat is laid out so that all of the features you need during the driver are easily accessible.
• Quality and Durability.
The interior of this work van was designed to meet all the needs of a strenuous day.
• Available Leather Wrapped Steering Wheel.
The leather wrapped steering wheel is available in vans equipped with Tilt Wheel and the Driver Convenience Package.
This is a work van, first and foremost. The seating and interior are made to be durable and withstand the rough use common with trade professionals. Materials were chosen that can handle wear and are easy to keep clean. You'll also find that the van is organized for convenience and ease of use, from the choice of door openings to options in securing your cargo.
2017 GMC Savana Cargo Van Safety Features
For the most park, the GMC Savana cargo van is a base level work van. GMC designed this model to fit the every day needs of tradesmen on the job. While they didn't include extra safety features, such as teen driver packages, or the extra bells and whistles common in family vehicles, they didn't skimp on basic safety.
• Front and Side Airbags.
The Savana comes equipped with frontal airbags that work with the seat belt system to protect passengers in the event of an impact. The van is also equipped with side curtain airbags that will inflate in the event that the side of the vehicle is struck in a collision.
• OnStar Available.
The 2017 GMC Savana comes with a three month trial of premium OnStar, which drivers have the option of continuing through subscription. This service includes automatic crash response, navigation, a link to emergency services, and remote door locks, as well as other services for your safety and convenience.
• Rear Park Assist.
Rear park assist is available for the 2017 Savana and it's an excellent option. Sensors in the back of the car alert you to objects within five feet, so that parking is far easier to manage.
• Rear Vision Camera.
The rear vision camera option allows you to see a visual directly behind the vehicle. This feature is activated whenever you place the car in revers, giving you a full view of your surroundings for better safety.
Technology Available in the 2017 GMC Savana Cargo Van
The fact that the 2017 GMC Savana Cargo Van is a work vehicle doesn't mean that GMC skimped on technology. In today's ever changing world, drivers need to stay connected to their offices, families, and devices like never before. GMC has added some features to the cargo van to make working on site far easier for drivers.
The van comes standard with AM/FM radio, heat and air, and power windows, which sounds pretty basic in today's luxury minded car market. But it also comes with some features to keep drivers connected to their office, or even lets them take their office on the road with them.
The OnStar service also comes with 4G LTE WiFi, making your Savana equipped to serve as an office on the go. Connect your laptop, phone, and other devices and never miss a bit of information you need on the job. For contractors and other tradesmen, this is an excellent feature to keep them connected to any cloud based application they might use to keep jobs organized and update client files. If you're working in a company that's a little more low tech, you'll still be able to check email, connect by phone or text, or just use your devices for entertainment during breaks and downtime.
The 2017 GMC Savana also comes equipped with a car touch radio with IntelliLink. This high definition screen lets you connect to your device to use favorite apps right from your display. You can use the navigation features to help you map your route throughout the day and avoid heavy traffic areas. You also have hands free calling and access to all of your contacts through voice command, so you never have to take your attention off the road, where it belongs.
Looking for a 2017 GMC Savana Cargo Van in the San Antonio Area?
If you're looking for a 2017 GMC Savana Cargo Van near Selma,
Gunn Buick GMC
is ready to meet your needs.
We serve the areas of Selma, New Braunfels, San Antonio, Schertz, and Seguin.
For sales call (210) 361-7364.
For service call (866) 719-9369.
2019 Savana Cargo Van For Sale Near San Antonio
It's simple, when it comes to providing competitive pricing and selection, Gunn Buick GMC is your Selma GMC Savana Cargo Van authority. Come visit Gunn Buick GMC today for a test drive where our friendly sales team is ready to assist you in your search for a 2019 GMC Savana Cargo Van with their years of experience and enthusiasm. Make Gunn Buick GMC your destination when you're in the market for a 2019 Savana Cargo Van and find out why more San Antonio GMC drivers are choosing us for their GMC needs.